WHO'S PETE HALLWARD?

Just some guy we know. When Paula and I were body-boarding fanatics back when I could stay in the water all day and not get an ear infection from the sewage in San Diego's ocean every time I got wet - we ran into this guy bobbing around out in the water who would yak up a storm at anyone near enough to talk to. You would frequently see Pete out there with our friend Bob Brennan - (Bob's an amiable dude been around forever - good Script's Institute tales if you ask him) - and later, as the sun set - they'd be on the beach playing frisbee with ol' Arn, or just anyone they could rope in.
Not too discriminating back then, our Pete. Pete would chat up anyone he ran into, and frequently zero'd in on travelers from parts foreign to regale them with the entertainments and virtues of Ocean Beach - the last real beachtown in California. Down below is a shot of the Ocean Beach pier on a day we probably didn't go out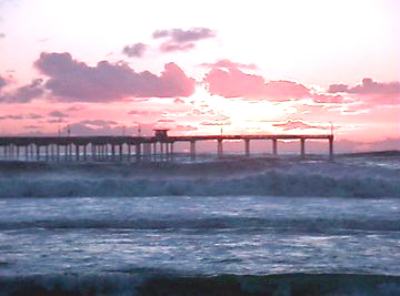 OCEAN BEACH CALIFORNIA


Why's Pete on a website with a bunch of aging artists with hardly a Gen-X dream between them? Because Pete Hallward is just a big kid. He might even be offended if you called him an artist, or he'd secretly blush with pride but damn if he'd let you know it. Pete's into electronics - radio and such, the mystery of the airwaves, but more so as a conceptual history-bearing field effect. He loves machines, and loves machining things on his collection of funky lathes (he'll say they're antiques) - things like steam engines and canons and model boat parts and - i dunno, sometimes it seems as though he's just turning stuff to see the stuff come spiraling off the tool.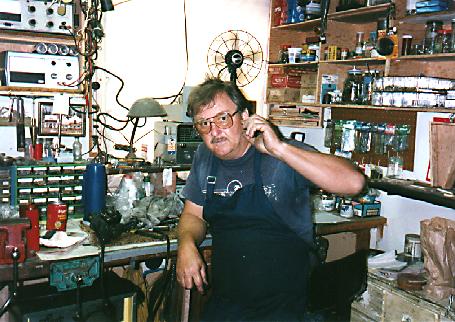 PETE HALLWARD IN HIS SHOP
Well - in the tool crib and electronics part of it anyway. Did I mention that Pete is a gun nut? He likes stuff that goes bang and stuff that flies through the air. This interest extends to planes and spacecraft, so it's not entirely morbid. Maybe Pete will let me vid some of his firearms and put em up here if he doesn't think the govmt will come after him as a result.

Pete was an early Macintosh computer adopter - got screwed on the 1st 128k Mac like so many of us did. His burned out not too long after the 90 day warranty expired and Pete was so pissed about it that he used it for a doorstop and was still doing so when we first met. After nagging me for years to go computer shopping with him and endless hours of poking about in every dream-vending shop in San Diego - Pete got mad at me one day and went out and bought himself a new iMac. Pete's in love. Below is Pete and his new friend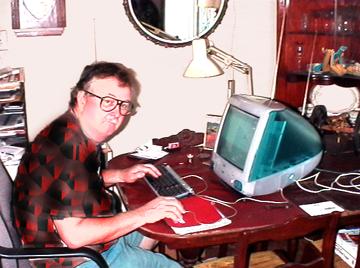 PETE'S NEW FRIEND
(the imac, not the Barbie on the shelf over to the upper right in case you missed it)

Now - I'm not saying Pete plays with dolls. I'm not saying anything about that at all - remember I said he's got a few guns? Not saying nothing.

Click below to go back to
or go back to the top of